tourbox
Destination Management
Solution for Inbound Tour
Operator
Customized for destination of operation
Multi-branch, Multi-currency and Multi-Lingual
Integrated security management with database level encryption
Powerful real time reports with day to day analysis
Graphical & Role based user dashboards
Integrated CRM
Integrates with 3rd party XML API feeds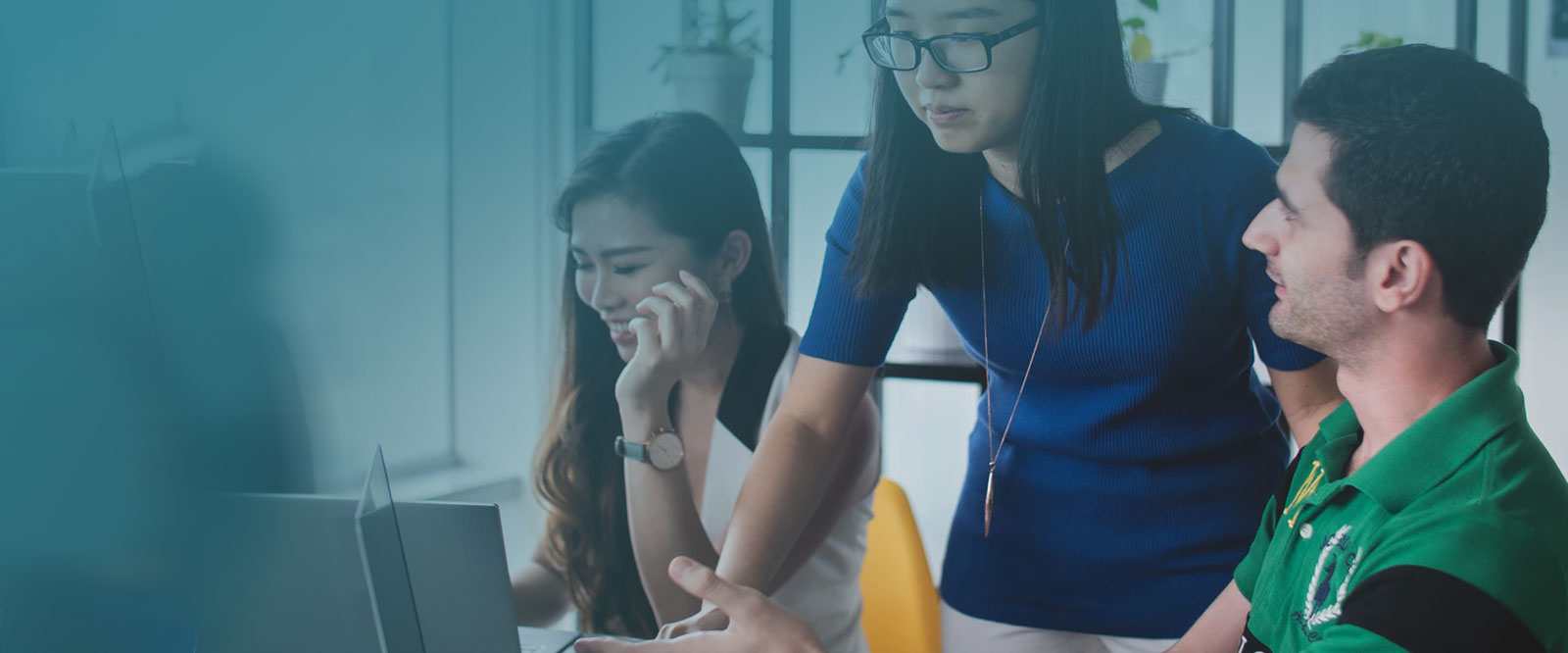 Destination Management Solution For Inbound Tour Operator
Working with more than 45 plus DMC's in the world, eTOS DMC product is suited to small, mid and large enterprises. We at eTOS have segregated functionalities understanding each countries localized requirements. We extend full training and maintenance support post implementation understanding that inbound tour operators come across various operational scenarios during execution of each file.
| | | |
| --- | --- | --- |
| 01 | | Integrations for easy travel management. |
Main Features
Company Setup

Contract Setup


(Master Management)

Product Module

Transaction Management


(CRM / Booking System)

Reservation Management
Operations
Operational Accounts
CRM Report
Dashboard
Extranet For Suppliers
Integration Services
Main Features
Contract Management for Suppliers (Hotel, Transport, Attractions, Restaurants, Excursions, Charters and Car Rentals)
Allotment Management (allocations with Free Sale, Fixed Room Inventory and Stop Sale) with Allocation Report and Stop Sale Alerts
Booking, Cancellations and Amendments of Contracted Hotels, Transfer and Attractions
Bookings, Ticketing, Cancellation, Amendments, Voiding and Reissue for GDS
Supplier Setup with Payment Cycles and Terms
Supplier Credentials Creation with Supplier Service Type Tagging Options
Supplier Payment Cycle Setup
Accounts Receivable Management With Pool Account and Booking Setoff, Credit and Debit Note Management and Outstanding Management
Accounts Payable Management with Payment Cycles, Booking Setoff Via Pool Account, Credit and Debit Note Management and Outstanding Management
P&L Per-file and Monthly GP Reports
MIS (CRM, Finance, Operations Reports)
Company Setup
Multi-Company Setup, Multi-Bank Setup, Multi-Branch Setup
Employee set up with Roles and Rights
Setup of Roles and Rights
Tax Setup
Currency Setup and Integration with XE (XML) for real time update
Agent Management (Contact Management)
Supplier Management (Contact Management)
Currency setup and integration with 3rd Party XML feed (example: XE)
Market Setup Master
Contract Setup


(Master Management)
Hotel Master (Room Setup, Combination Setup, Meal Plan, Amenities, Pictures)
Hotel Contracts (Multi-Season, Multi-Market, Surcharge and Meal Upgrades)
Hotel Allotments (Room Allotments, Stop / Open / Free Sale), Allotment Chart and Occupancy Management)
Sub Allotment Management to Agents
Attraction, Sightseeing and Tours Master
Owned Vehicle Database and Supplier Vehicle Database
Driver and Guide Database
Transport Rate Manager
Restaurant Masters with rate management for different meal type and menus
Car Rental (Self Drive Tours)
Common Masters (Inclusions, Exclusions, Cancellation Policy etc)
Product Module
Package Management (Inbound Packages) (Multi Season)
Supplier Packages (Hotels)
Visa Product Management
Transaction Management


(CRM / Booking System)
Enquiry Management (FIT and Groups)
Bookings for Hotels, Tours, Transport and Excursion and Flights
Costing Management and Amendments (FIT and Groups)
Automated Itineraries (FIT and Groups)
Quotation Management (FIT and Groups)
Costing and Quotation Approvals (FIT and Groups)
Quick Booking process (allows user to enter direct converted bookings in the system) (FIT and Groups)
Generation of Proforma Invoice (manual generation of Proforma Invoice) (FIT and Groups)
Booking Amendments and Cancellations (FIT and Groups)
Generation of Performa Invoice (Automated)
Reservation Management
Reservation Management with Multiple Amendments and Cancellation (Generates Service Vouchers Supplier wise)
Hotels, Transportation, Attraction / Tours, Restaurants
File Wise and Queue wise management
Operations
Vehicle Allocation
Driver and Guide Allocation
Driver and Guide Duty Chart
Daily / Weekly / Monthly Allocation Report (Vehicle)
Passenger Arrival and Departure Reports
Vehicle Utilization Report
Operational Accounts
Final Invoice Creation post departure
Accounts Receivable Management with multiple payment option and Agent Pool Account
Accounts Payable Management (Supplier Wise)
Supplier Bill Booking
Pre and Post Tour Expenses
File wise supplier payments or bulk payments
Provisional P&L Statement per file
Final P&L per file
Monthly GP report
Supplier Outstanding Report
Customer Outstanding report
File Wise (Forex Loss and Gain Report)
Over 20+ Report
CRM Report
Enquiry and Funnel Report
Follow-up Report and Conversion Report
Agent Analysis
Supplier Analysis
Over 20+ Reports
Dashboard
User Dashboard
Operations Dashboard
Accounts Dashboard
Company Dashboard
System Admin Dashboard
Contract Dashboard
Product Dashboard
Extranet For Suppliers
Extranet For Suppliers will come here
Integration Services
3rd Accounts Integration
Quick Books / Tally Integration / Sage CRM / Xero / SAP / Oracle Financials (currently Available)
Payment Gateway Integration
Payment Gateway integration on B2C and B2B platform (charges per gateway)
3rd Party XML Integration
Hotel API Integration
Over 30+ API's Integrated
Flight API Integration
GDS (Amadeus and Galileo) + Consolidators (Mystifly, PKFare, Pyton and TBO)
Transfer API Integration
(Hotel Beds, Tourico, Amadeus, Talixo)
Activity API Integration
(Hotel beds, Vaitor)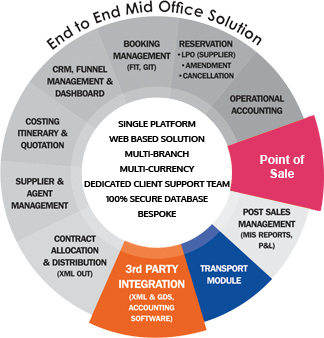 | | | |
| --- | --- | --- |
| 02 | | More visibility, less busywork. |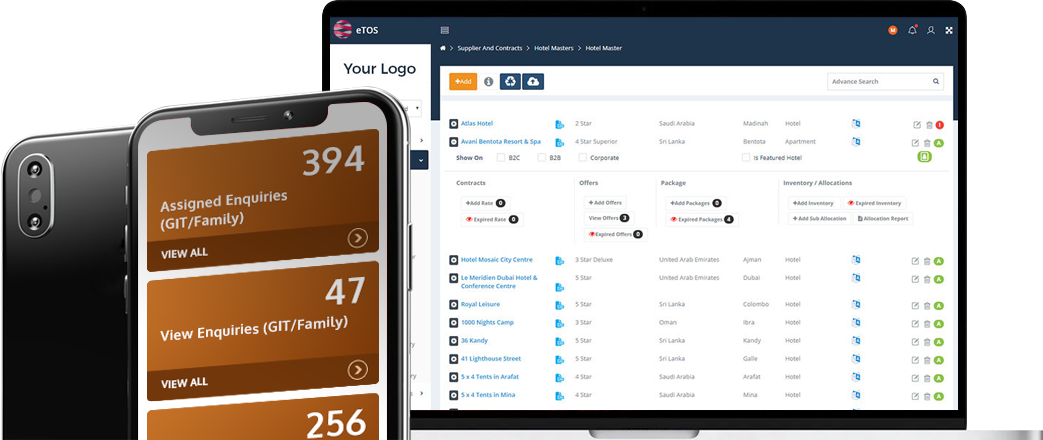 Agent Commission Setup & Markup Setup
Agents Credits, Real Time Booking Information & Payment History with Current Outstanding, Ability for Agents to Payby Credit Card.
Print Vouchers & Proforma Invoice.
Reservation Management for Flights, Hotels, Transfers, Packages & Activities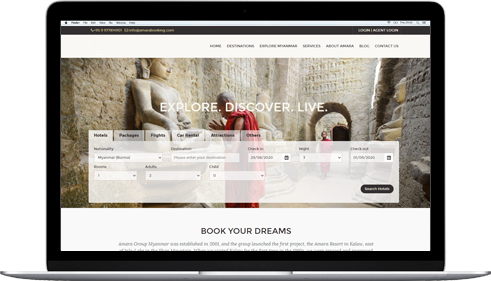 Flight + Hotel + Transfer + Activity
Flight + Hotel
Hotel + Transfer + Activity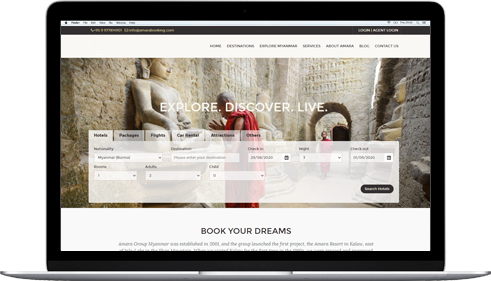 Markup Management & Customer Portal
Reservation Management for Flights, Hotels, Transfers,
Packages & Activities
Payment Gateway Integration
Destination or Product Web Portal
Responsive & SEO Friendly Website
Social Media Links, Blogs & Google Analytics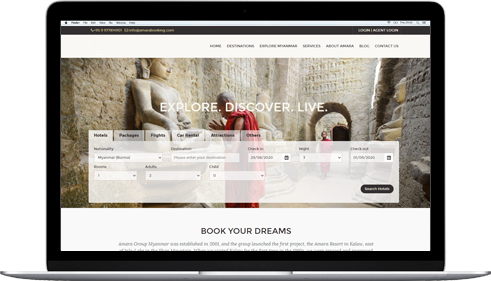 Distribution Platform via Soap XML services (Hotels, Transport, Attractions, Excursions & Restaurants)
Static Data in Excel Format
Test Server Implementation & Support
Setting up of Agent Credentials & Markups
Implementation Stages & Technical Support Management
Live Server Setup & Management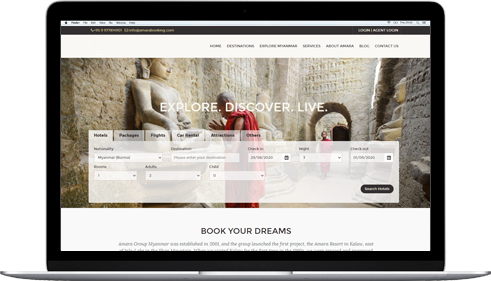 3rd Party Integrations
Our experts develop a strategy that will lead you to success!
XML API Integration
Flights (GDS, Low Cost, Consolidator)
Hotel (Contracted + XML Feed)
Transfer (Contracted + XML Feed)
Activity (Contracted + XML Feed)
Car Rental
Payment Gateway Integration
3rd Party Accounting
Integrates Seamlessly with 3rd Party Accounting Software
Major Accounting Solution includes (Tally, Quick Books, Oracle Financials etc.)
Ledger Mapping
No Double Entries